If you do it for you Do it for your pet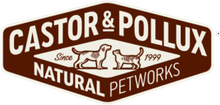 Paws & Fins Pet Shop is proud to carry Castor & Pollux in Bainbridge Island, Washington. As the leader and maker of America's #1 organic pet food, Castor & Pollux has set a new standard with the most comprehensive portfolio of purposeful pet food.
Your local, independent pet shop, specializing in quality food, treats, and supplies for dogs, cats, small animals, fish, birds and reptiles.